About A+ Autoglass
Driving with a damaged windshield can be dangerous. It could hinder your view of other drivers or obstacles in the road. When it rains, the damage could cause leaks to get into your vehicle and start ruining your electronics under the dash. It doesn't matter how it happened; auto accident, fender bender, hail damage, or a crazy stunt for YouTube – we can get your auto glass repaired or replaced so you can get back to driving safely.
Large cracks? No problem! Busted headlight? We can fix it! Need scratch removal? Let us know! You can request a quote online and let us give you an idea of price and when we can schedule you for service. If you have any questions about what we can repair or replace, don't hesitate to contact us. One of our team will get back with you as soon as possible.
A+ Auto Glass services the Denver metro area including Aurora, Lakewood, Highlands Ranch, Westminster, Commerce City, Broomfield, Brighton, Littleton, Parker, Castle Rock and Centennial. We have been in the auto glass business since 1993 and have strived to provide a service that gives our customers the best overall value and quality they can find.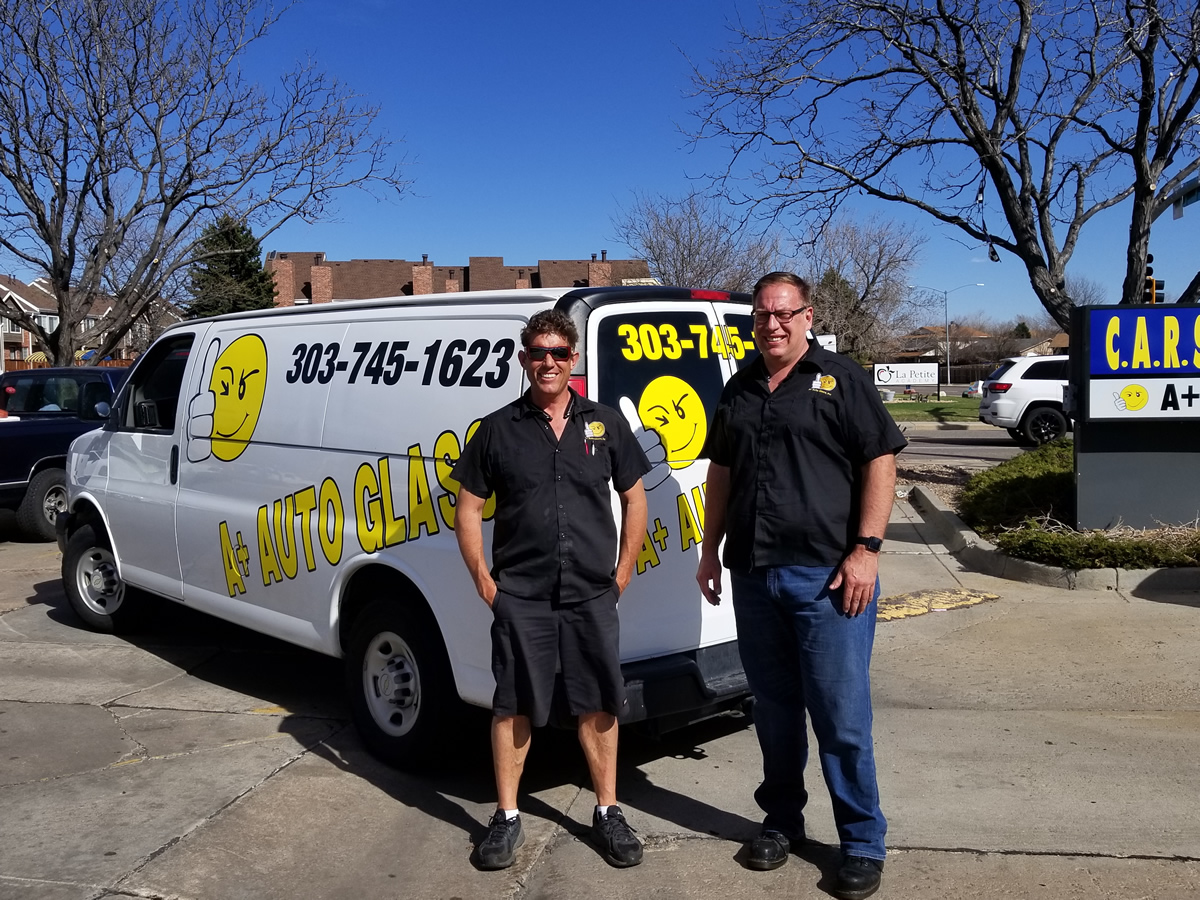 The owners of A+ Auto Glass have lived in the Denver area since the late 1980s. When you share your business with A+ Auto Glass you know your money will stay in the community. Stan Johnson and Craig Feddersen have invested their time and money to bring products to their customers that not only solve the customer's problems but also improve their safety.
Originally starting their business around windshield repair, Stan and Craig realized there was a gap in the windshield and auto glass replacement market. Service to the customer was not a priority. Companies were making promises that they were not delivering on. Improper installations, appointment windows being missed and disrespectful installers were rampant in the industry. A+ Auto Glass wanted to take the Auto Glass industry to the next level. Treating the customer, their time and their cars with their utmost respect.
A+ Auto Glass has been with The Tom Martino Referral list since 1999, and were one of the original companies to be asked to participate. By treating the customer the way we would like to be treated has always been a key to becoming a well respected company in the Denver Metro area.
Over time A+ Auto Glass has added headlight restoration, glass restoration, graffiti removal from glass, hard water staining removal from glass, home glass and store front glass replacement. We strive to make our customer's happy with the outcome of their repair.
When we say "Thank You for choosing A+ Auto Glass" we mean it!